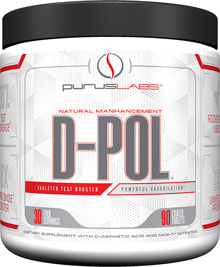 Since testosterone performs so many functions in a man's body, testosterone boosters are often mixed with other supplements to create specialized hybrids that use testosterone to enhance the effects of their other ingredients, and vice-versa. D-Pol is one such hybrid, blending D-Asparatic Acid with Nitratine, for a pre-workout/testo-booster combination. Certainly more targeted towards gym-rats than the over-30 crowd, but a pretty solid supplement for that demographic. Read through the rest of our D-Pol review to uncover all of the details on ingredients, claimed benefits, pros, cons, and more to find out if this testosterone boosting supplement is the right fit for you!
D-Pol Review
Summary
A pre-workout supplement and testosterone booster hybrid. If you're looking for exactly that combination of effects, D-Pol is among the better options. If you need a wider variety of benefits, take a look at our Featured Product Testo Gold!
The Claimed Benefits of D-Pol
Support increased testosterone production and utilization
That's it. D-Pol's official site makes a single understated claim, without embellishment. Nice and simple.
What's the Goal of D-Pol?
With D-Pol's peculiar combination of pre-workout supplements and testosterone boosters, it works slightly differently from most testosterone boosters. Instead of raising testosterone levels in a consistent and steady manner, it goes all-in on D-Asparatic Acid, which produces heavy increases with periodic breaks to return to baseline. This complements it's nitric oxide augmentation nicely for increased muscular development, but leaves it severely lacking for those looking to boost their testosterone levels to compensate for Low T, or to provide general male-health improvements.
D-Pol Review of Ingredients | What Makes it Tick?
D-Asparatic Acid and Nitratine form the backbone of of D-Pol's formula, which it fleshes out with a few vitamins that support each of those. I would say that D-Pol could do with greater formula diversity, as there are few ingredients beyond the core focuses. What is present is potent and well-formulated, but D-Pol's greatest strength is also a weakness: it is very specialized. This is not a well-rounded formula meant to provide multi-faceted benefits as an all-purpose testosterone booster. It is a focused, targeted blend, aimed at improving exercise results, using testosterone boosting as a synergy-element towards that purpose.
Chat Around the Web
The average D-Pol review leaves it rated at 2.9 stars on Amazon.com; average of 4.1 from other user reviews around the web.
How Much Does D-Pol Cost?
$33.99 from VitaminShoppe.com
The Pros
Hybrid formula combines a testosterone booster with a pre-workout supplement
Solid formula synergy among its two focuses
Great user reviews from hard-core gym-junkies
Decent price, given the dual-purpose nature of its formula
The Cons
Splits its focus between T-boosting and workout-enhancement
Very little to offer for those looking to offset Low T
Mediocre user reviews from a broader distribution of users
Narrow, limited formula with very little diversity
D-Pol Review: The Final Conclusion
D-Pol occupies a strange place in the world of testosterone boosters. Despite using strong testosterone boosting ingredients, it seems to treat testosterone as more of a means to its true purpose of exercise-enhancement, rather than as an end unto itself. Our D-Pol review concludes that if that is what you came to testosterone boosters for, another way to get more value from your gym time, D-Pol is a solid choice. If you're looking for more well-rounded results, though, D-Pol can't compete with our